Testimonials
"Using horses gave a completely new dimension of working on my leadersghip style and personality."
"I recieved some unexpected feedbacks about myself, some hidden strenghts have been discovered."
"The mirror concept with horses really works..."
Lufthansa Systems Hungária. Horse Assisted Leadership Development
for the A-team
---
"It was a great surprise for me how much the horse-based methodology resonates even with people who do not fancy animals very much. The greatest impression on me was how different ly people can interpret a not very complicated situation: the person who experiences it and the environment who sees it. I find this methodology very useful both in getting to know ourselves and in leadership training."
Dr. Strén Bertalan
HR Specialist
Malév
---
"As far as my experiences are concerned, I emphasize the fact that the methodology you described and showed was far and above all my fancy.
What I noticed was that everybody can get quick and unambiguous feedback about themselves, about how they want to solve the task and about how they relate to horses."
Participants' feedback about the open horse-assisted training day (9/2/2011)

---
"At first it wasn't all our top managers who fancied the idea that we should develop ourselves building on the instinctual capabilities of horses; the idea seemed irregular and very bizarre. However, the atmosphere got better after the preparation interviews, but actually it was the training itself, the personal experience itself that gave us the hope that we can take part in a very useful and priceless training. What made the picture complete was when the trainers and we interpreted the horses' reaction to our behaviours. I recommend this irregular but in the long run absolutely memorable training to everybody who's open to accept the interpretation of instinctual responses of such 'independent' experts as horses about their character, which helps to more profoundly understand the present behaviour as a manager and to develop it in the future.
The venue of the training was the manège in Karmacs, near Hévíz, and it is in itself a wonderful location that provides extraordinary opportunities to relax. The beautiful landscape and the hospitality of the local people add more spice to our unforgettable memories."
Szijjné Kállai Ildikó, HR Director
Praktiker Hungary Ltd., training program for the top management
---
"A new wonderland has opened for us: we got realistic feedback."

"New venue, new methodology, beautiful surroundings, professional trainers who are serious about their work and really want to convey new knowledge."
---
"Dear Gábor,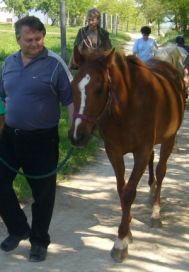 I'd like to share my opinion about your horse assisted training for managers. As I've never been close to horses, I was a bit afraid of these bulky and strong animals. My first surprise was that each and every horse is an individual. Then I realised that horses get to know me much quicker than any person! No way to explain, there're no credentials, there's no position, only acceptance or repulsion. Being a manager, one of my special task was to find the method that makes the horse co-operate with me. It's almost easier to get along with people...
My greatest success was that I managed to 'tame' a disobedient horse without resorting to violence. The training was a turning point in my attitude to horses: I've loved them since then. I have some experiences to tell about and I long for being together with them again. Thank you for this special experience!"
István Kurali, superintendent, Volánbusz Co. Ltd.
---
"I'm a great fan of horses and horse-riding, but I must admit that at first I was sceptic, too. Management training with horses...???
Then my apprehension was outdone by my curiosity and I'm very happy that it happened this way. Though I still had to convince our managers about this 'seemingly crazy' idea, but Gábor Suhai dissipated all doubts with his patient answers. We tried it and it came out that it is possible to build a management team and enhance co-operation with the help of horses!
I wouldn't like to unveil how it happened, but I recommend that all HR managers should try this training with their management, because it's not the mechanic training and experiences that they're used to. I can confess one thing though: it's the after effect that hides the secret."
Best regards: P. Átol Zita
HR manager, JKH Wholesale Trading Ltd.
---
Dynamic, varied programmes, concrete and exact evaluations
Rich in ideas, concrete, varied, well organised, the training had great content and we were looked after in a very careful way
Great atmosphere, efficient programmes, learning by playing
Good proportion of outdoor and indoor elements, efficient discussions that revealed the causes and effects
Punctuality, well planned and well structured, 'tailor-made' syllabus
..A.S.A Hungary Ltd., enhancing management co-operation
---
"The coach led me but he absolutely adjusted to my individual needs and used the appropriate didactic tools like good examples, situational exercises etc. to make sure that we do work which helps to attain my goals. The individual training sessions needed a good deal of attention and sometimes a great deal of preparation. Beyond the simple technical methods lik communication, appearance, conflict management etc. I had the opportunity to analyse the traps of my personality, which was very instructive."

E.ON Hungária, top manager coaching
EQ Skill
Bimbó út 5.
1022 Budapest
Hungary
Phone:
+36 1 950 6754

EAHAE Conference 2017
Belbin&HAE
Belbin is a practical and easy-to-use tool that can be applied to training and business outcomes. The theory has…
HD TTT 2016
HD TTT Seminars in Hungary with Gábor Suhai again! Dates: 7-8th March, 2016 7-8th November…
Train The Trainer in Octo
"It was the most useful, enjoyable, and in my opinion the most important program for me in the last 10 years.…
HD TTT in October
HorseDream Train - The - Trainer Seminar will be held in English, by Gábor Suhai (EQ-Skil Ltd) on 19-20.…
More »