News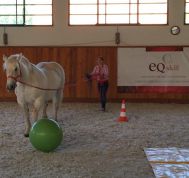 HD TTT in October
EQ-Skill provides a HorseDream TTT Seminar in English, on 19-20. October!
HorseDream Train - The - Trainer Seminar will be held in English, by Gábor Suhai (EQ-Skil Ltd) on 19-20. October 2015, in Hotel Szépalma, Hungary.
Participate at our "Train the Trainer Seminar" means that you have horse experience and that you know your target group.
You will learn how to combine both. And you will get a proven concept to work with from the very first beginning. You'll learn about our special seminar approach, working together with the horse as the real trainer.
This seminar qualifies for membership in the EAHAE.
As a Qualified EAHAE Member
you are allowed to provide the seminar "The Art of Leadership"

you'll get a personal profile on the EAHAE website, linked to your own website

you are allowed to use internal EAHAE documents, information, presentations, and seminar concepts

you can participate in the EAHAE website award

you are allowed to use the EAHAE logo and the phrase "Qualified Member of EAHAE international" or "Qualified Member of the European Association for Horse Assisted Education" on the own website and in letters, papers or brochures
You will experience five categories of hands-on exercises
watching

leading

picadero (distance and nearness)

goal orientation

teamwork
and you will learn about three fundamental categories of transfer models
leading positions

team atmosphere / company's culture

personal development
Seminar content

Participation in the hands-on horse exercises
Our seminar philosophy
Our seminar theories
Education and training of the horses
Seminar organization
Seminars for special target groups
Aspects of safety
Video work
Internet presence
Advertising and public relations
Literature for further reading

You'll get a one-day and a two-day concept hand-outs for participants included. As an EAHAE member you can download lots of information, concepts, slideshows, presentations, videos and more.
Language

Seminar language is English.
Price 1495 EUR + VAT
Price includes beverages in the breaks during the seminar, the hand-outs for the execercises, 1-day and 2-day concept, train the trainer certificate.
To apply, please fill out the application form and return it by e-mail to bakanek.bianka@eqskill.hu
For details check out our flyer
www.eahae.org
www.horsedream.hu
www.eqskill.hu
Back to the previous page
EQ Skill
Bimbó út 5.
1022 Budapest
Hungary
Phone:
+36 1 950 6754

EAHAE Conference 2017
Belbin&HAE
Belbin is a practical and easy-to-use tool that can be applied to training and business outcomes. The theory has…
HD TTT 2016
HD TTT Seminars in Hungary with Gábor Suhai again! Dates: 7-8th March, 2016 7-8th November…
Train The Trainer in Octo
"It was the most useful, enjoyable, and in my opinion the most important program for me in the last 10 years.…
HD TTT in October
HorseDream Train - The - Trainer Seminar will be held in English, by Gábor Suhai (EQ-Skil Ltd) on 19-20.…
More »