News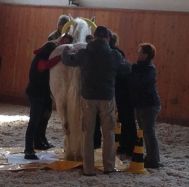 XI. EAHAE Conference
Organization Development With Horses. Leadership seminars, team training and coaching for cultural change in business.
Experts Panel 3: Gábor Suhai (OD consultant, trainer, coach, EQ-Skill, Hungary) Using Belbin's Team Roles in Horse Assisted Leadership Development
Bebin Team Role system is a widely known, easy-to-use and scientifically composed questionnaire, which is one of the most common tools to discover the behavioural strengths and weaknesses of individuals and teams. Using the 9 Team Roles helps to build high-performing teams, maximise working relationships, to enable people to learn about themselves and the group to reflect itself. It is a common experience that individual differences can cause a group to fall apart. People just don't fit in… On the other hand, variation in personal characteristics can become a source of strength if they are recognised and taken account of. So understanding the nature of these differences in team roles can become an essential first step in the management of people, providing one can recognise what is useful for a given situation and what is not. Mapping individual team roles create an excellent basis form composing (project) teams and to increase not only the performance of the team but also to improve the team's athmosphere and spirit.
Horse Assisted Education is based on the concept, that the presence of horses can be utilized as a mirror to reflect to the individual or team behavior in order to discover, realize, accept and (if needed) to change the personal or team characteristics and behavior. Horses help a lot to build up a new kind of rapport in communication, relationships and ccoperation.
In the past 3 years we used together horses and Belbin for the same purpose: to double the mirror. We found that the insights and corrections were doubled too. In our paper we would like to introduce the Belbin Team Role System and some case studies showing, how BAE and HAE can be combined for the benefit of individuals forming a team in organizations.
Experts Panel 1 Horse Assisted Coaching
Gábor Suhai: What makes the Horse Assisted Education Process to Become a Coaching?
2-4. October 2015, Germany
Friday 16:00h to Sunday 16:00h

Download the Preliminary Conference Program
Back to the previous page
EQ Skill
Bimbó út 5.
1022 Budapest
Hungary
Phone:
+36 1 950 6754

EAHAE Conference 2017
Belbin&HAE
Belbin is a practical and easy-to-use tool that can be applied to training and business outcomes. The theory has…
HD TTT 2016
HD TTT Seminars in Hungary with Gábor Suhai again! Dates: 7-8th March, 2016 7-8th November…
Train The Trainer in Octo
"It was the most useful, enjoyable, and in my opinion the most important program for me in the last 10 years.…
HD TTT in October
HorseDream Train - The - Trainer Seminar will be held in English, by Gábor Suhai (EQ-Skil Ltd) on 19-20.…
More »