News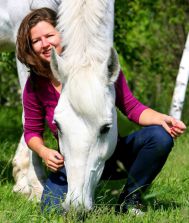 PTSD
Zsófia Semsey provides a short presentation on PTSD at the XI. EAHAE Conference, in Germany.
Post Traumatic Stress Disorder is the topic of the Expert's Panel 4. where Zsófi Semsey explains her special viewpoint about this very important issue.
PTSD and EAP Competences and Limits of Horse Assisted Work with Mental Disorders – Viewpoint of an Equine Assisted Psychotherapist
"PTSD is a psychiatric disease whose treatment is a serious challenge even for a qualified psychotherapist. Most significant threats, which appear during the interventions of PTSD therapy, should be treated by the therapist consciously, prepared and professional in course of the process. Equine assisted psychotherapy, as a method gives an opportunity for this. However in the absence of adequate competence, the risks of the method may cause severe consequences and deterioration. In my presentation I point out the ethical issues, the required professional responsibility and competencies needed for equine assisted treating of mental disorders."
More details about the Conference and the Expert's Panel 3. leaded by Gábor Suhai in our previous report.
Back to the previous page
EQ Skill
Bimbó út 5.
1022 Budapest
Hungary
Phone:
+36 1 950 6754

EAHAE Conference 2017
Belbin&HAE
Belbin is a practical and easy-to-use tool that can be applied to training and business outcomes. The theory has…
HD TTT 2016
HD TTT Seminars in Hungary with Gábor Suhai again! Dates: 7-8th March, 2016 7-8th November…
Train The Trainer in Octo
"It was the most useful, enjoyable, and in my opinion the most important program for me in the last 10 years.…
HD TTT in October
HorseDream Train - The - Trainer Seminar will be held in English, by Gábor Suhai (EQ-Skil Ltd) on 19-20.…
More »