News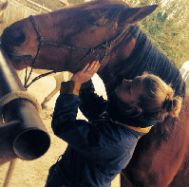 New member announcement
We are delighted to announce that a new equine mediated and general training assistant has joined our team since the 1st of June.
Bianka Bakanek has been working with horses for 15 years at first as dressage rider later as a coach. Her devotion and passion towards equines unites in a respectful cooperation with them, which she combines with her interest in people- and organisational development at EQ-Skill. Her role as a general and equine mediated training assistant is to support the background processes of the training programs and to actively participate in horse assisted trainings.
"To find my job and my calling all at one place and working with horses can become a part of my everyday life is a dream of my childhood. I am glad that with my knowledge from the university combining with what I have learned from the horses I may contribute to the EQ-Skill Team."
You may read further information of Bianka here.
Back to the previous page
EQ Skill
Bimbó út 5.
1022 Budapest
Hungary
Phone:
+36 1 950 6754

EAHAE Conference 2017
Belbin&HAE
Belbin is a practical and easy-to-use tool that can be applied to training and business outcomes. The theory has…
HD TTT 2016
HD TTT Seminars in Hungary with Gábor Suhai again! Dates: 7-8th March, 2016 7-8th November…
Train The Trainer in Octo
"It was the most useful, enjoyable, and in my opinion the most important program for me in the last 10 years.…
HD TTT in October
HorseDream Train - The - Trainer Seminar will be held in English, by Gábor Suhai (EQ-Skil Ltd) on 19-20.…
More »