News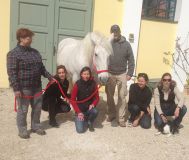 HD TTT
The first hungarian HorseDream Train The Trainer Seminar is on the half way!
We proudly announce that Hungary started HD TTT seminar for the first time at the 13th of April. The participants already possess their Certificate, which means they are enabled to hold the 1 day "Art of Leadership" programme and also to join the EAHAE community.
Interesting, instructive, suprise - and of course - horse full 2 days are behind them, which were leaded by Gábor Suhai HD TTT licenced trainer.
However the special hungarian TTT doesn't ends up after the 2 day Seminar. EQ-Skill provides a II. Modul for all the participants in June, where they can practice and deepen they knowledge gathered on the first 2 days.
Having regard to the upcoming interest EQ-Skill declares an international TTT Seminar in English, at 18-19. May.
Further informations coming soon.
Back to the previous page
EQ Skill
Bimbó út 5.
1022 Budapest
Hungary
Phone:
+36 1 950 6754

EAHAE Conference 2017
Belbin&HAE
Belbin is a practical and easy-to-use tool that can be applied to training and business outcomes. The theory has…
HD TTT 2016
HD TTT Seminars in Hungary with Gábor Suhai again! Dates: 7-8th March, 2016 7-8th November…
Train The Trainer in Octo
"It was the most useful, enjoyable, and in my opinion the most important program for me in the last 10 years.…
HD TTT in October
HorseDream Train - The - Trainer Seminar will be held in English, by Gábor Suhai (EQ-Skil Ltd) on 19-20.…
More »