News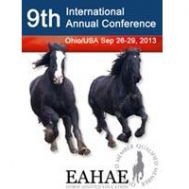 EAHAE Conference 2013
The 9th Annual EAHAE (European Association for Horse Assisted Education) International Conferenceis going to be held at the end of september in Cleveland, Ohio, US.
"May The Horse Be With You!"
This year's Conference is going to happen between the 26th and 29th of September. Although with other programs, pre- and postworkshops we may join the whole series of programs from the 24th of September till the 6th of October.
Line up:
Pre-conference (24-26th Spetember) - EAHAE Qualifying Horse Coaching Workshop
Conference (26-29th September) - előadások, workshopok, tudásmegoszt
First post-conference (29-30th September) - Entering the Culture of Horse and Herd and Appreciative Inquiry Approach
Seconf post-conference (30th September – 6th October) - HorseDream partner license workshop
For more information and registration click here
Back to the previous page
EQ Skill
Bimbó út 5.
1022 Budapest
Hungary
Phone:
+36 1 950 6754

EAHAE Conference 2017
Belbin&HAE
Belbin is a practical and easy-to-use tool that can be applied to training and business outcomes. The theory has…
HD TTT 2016
HD TTT Seminars in Hungary with Gábor Suhai again! Dates: 7-8th March, 2016 7-8th November…
Train The Trainer in Octo
"It was the most useful, enjoyable, and in my opinion the most important program for me in the last 10 years.…
HD TTT in October
HorseDream Train - The - Trainer Seminar will be held in English, by Gábor Suhai (EQ-Skil Ltd) on 19-20.…
More »