News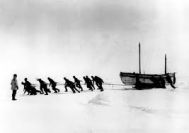 Book review
We tend to prefer success stories and we judge by the outcome and the performance instead of evaluating the whole process. The Endurance-expedition of Shackleton in 1914 was the most successful failure of the world.
Not only the Endurance-story but the whole life of Shackleton is inspiring, even if it was not him who explored the South Pole. The secret of failure was the ice, the secret of success was Shackleton's mostly instinctive human resource-centered leadership style.
It all suited him: the selection and recruitment, the job enrichment, creating the knowledge management-system or crisis intervention, just as well the theories of Hersey and Blanchard, Pink, Parker, Kotler, Handy, Lencioni or others which could be implemented on leadership practice.
Reading this book is not quite easy but the message and the content and moreover what we may learn from it worth the time.
Stephanie Capparel - Margot Morrell : Shackleton's Way
Back to the previous page
EQ Skill
Bimbó út 5.
1022 Budapest
Hungary
Phone:
+36 1 950 6754

EAHAE Conference 2017
Belbin&HAE
Belbin is a practical and easy-to-use tool that can be applied to training and business outcomes. The theory has…
HD TTT 2016
HD TTT Seminars in Hungary with Gábor Suhai again! Dates: 7-8th March, 2016 7-8th November…
Train The Trainer in Octo
"It was the most useful, enjoyable, and in my opinion the most important program for me in the last 10 years.…
HD TTT in October
HorseDream Train - The - Trainer Seminar will be held in English, by Gábor Suhai (EQ-Skil Ltd) on 19-20.…
More »