News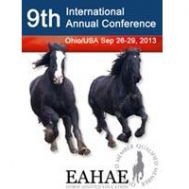 9th EAHAE Conference
After eight successful annual conferences in Europe the 2013 conference of the European Association for Horse Assisted Education (EAHAE International) will be held for the first time in the USA.
There will be well known trainers and coaches of the horse assisted leadership team development business, including David Harris and Jude Jennison (UK), Barbara Rector, June Gunter and Linda Kohanov (USA), Juan Bernado Bermeo (Ecuador), Stéphane Wattine (France), Agata Wiatrowska (Poland) and Gerhard Krebs (Germany). During the workshops entrepreneurs will talk about their personal experiences with equine assisted team building and scientists will present research results.
There will be a pre-conference workshop, "Coaching With Horses" 24th – 26th September and a 5-day trainer certification course. Deadline for signing up is 31st August 2013.
For more details please visit: International Press release EAHAE 2013
or visit the EAHAE website: www.eahae.org
Back to the previous page
EQ Skill
Bimbó út 5.
1022 Budapest
Hungary
Phone:
+36 1 950 6754

EAHAE Conference 2017
Belbin&HAE
Belbin is a practical and easy-to-use tool that can be applied to training and business outcomes. The theory has…
HD TTT 2016
HD TTT Seminars in Hungary with Gábor Suhai again! Dates: 7-8th March, 2016 7-8th November…
Train The Trainer in Octo
"It was the most useful, enjoyable, and in my opinion the most important program for me in the last 10 years.…
HD TTT in October
HorseDream Train - The - Trainer Seminar will be held in English, by Gábor Suhai (EQ-Skil Ltd) on 19-20.…
More »